Growing and Cooking with Herbs Workshop – What You Need to Know
May 4, 2019 @ 2:00 pm

-

3:00 pm

|

$20.00
Saturday May 4, 2019
At Evermore Farm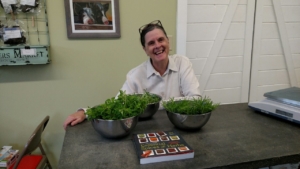 Spring is here! Days are getting longer, the sun is getting brighter, and seasonal plants are popping up all around us. After a slow and stagnant winter, using spring-time herbs in our cooking and beverages can help us gently detoxify, give us much needed nutrients, and renew our spirits.
In this workshop you'll touch, smell, and taste a variety of herbs, and learn how to create simple recipes using herbs to enhance their flavor as well as how to grow and care for your own herbs.
Our workshop will be conducted by Jennie Landean a trained health coach and avid herb grower.  Jennie supplies herbs to our farm store. Instruction will include:
How to grow herbs from seed.
How to grow herbs from cuttings.
A guide to what herbs compliment which foods.
How to make herb butter and take home your own ½ bl of herb butter.
This is a great activity to do with a parent, child, or friend.  Come visit the farm and take home some fun.  For tickets, click here.
Share This Story, Choose Your Platform!